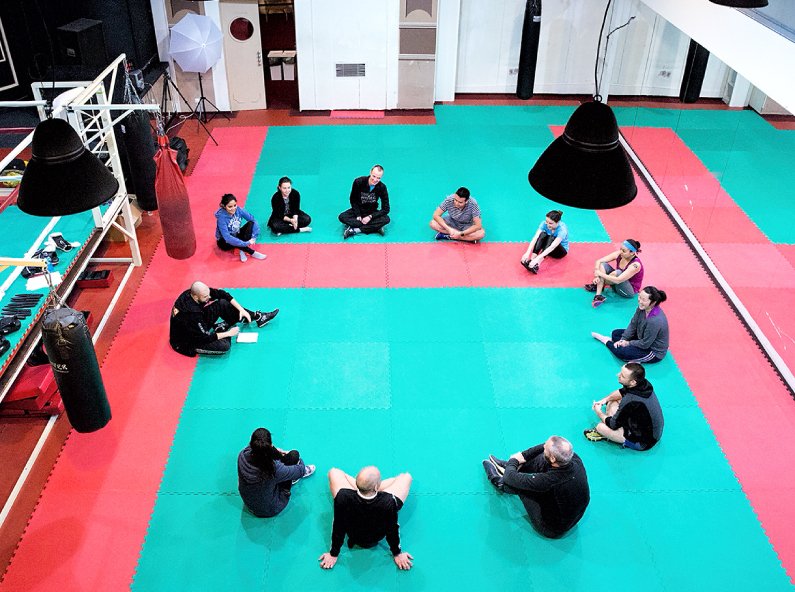 Krav Maga is a practical approach to self-defense designed by the Israeli Defense Forces and now utilized by special forces and law enforcement around the world; learned by survival-minded civilians; and, more recently, adapted for gym strength and conditioning programs.
The recent rise in KM's popularity is, in part, thanks to the school's straight-forward teaching method, the fast learning curve, and because Krav Maga in not your traditional martial art it does not concern students with "form" or "honoring thy opponent"; there is no meditative component, no ceremony. KM, instead, emphasises real-world responses to real-life situations.
1. Krav Maga is a Self-Defense System That Teaches How to Survive Violent Situations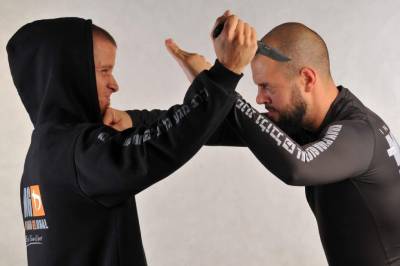 The first principle in Krav Maga is that the best way to survive a violent confrontation is to avoid it situational awareness and conflict de-escalation are two of the basic pillars of the teachings.
But when the only choice left is to fight, Krav Maga throws the rules out the window. Eye-gouging, elbows to the face, and systematic attacks to the groin area are all part of the deadly repertoire employed to defend against attacks, disarm and neutralise an assailant, and escape a threatening situation.
Integrating the techniques of various martial arts with the dirty tactics of street fighting, Krav Maga training (which means "contact combat" in Hebrew) emphasises real life scenarios and prepares students to respond, in the most effective way possible, under the real stress and surprise of an attack.
Some Krav Maga schools even encourage their students to practice in regular street-clothes; because most people don't walk around in karate robes.
Check out this video for a taste of Krav Maga
2. Krav Maga is Also a Great Fitness Exercise
Like MMA and all professional fighting gyms, Krav Maga incorporates strength and conditioning programs, and fitness workouts in the class.
The Krav Maga training program emphasize increasing stamina and strength so it combines the punching, kicking, and elbowing techniques with body weight and functional movement training to give you a great workout.
The conditioning exercises alone won't prepare you for street combat, but it provides a high-intensity workout for people at any level of fitness and helps to develop your physical resistance.
3. Size Doesn't Matter in Krav Maga
Krav Maga is taught and practiced with the David and Goliath scenario in mind, which emphasizes speed and well-placed infliction over size, strength, age, or fitness.
It's all about quick movements designed to cause maximum impact; distorting the opponents vision, strike the groin, fracturing a knee, knocking someone out. You don't need brute strength. It's perfect for most women because it doesn't rely on brute strength and it's incredibly easy to learn.
Will a little old lady be able to take down 6-foot 4-inch (2m) mugger with her Krav Maga? Probably not. But knowing a few simple techniques could slightly tilt the odds in your favor and make the difference between escaping a nasty situation.or not.
4. Many Celebrities Are Learning Krav Maga
Jason Statham used Krav Maga in preparation for his 2012 film Safe.
Move over Kabbalah. There's a new trend in Hollywood. Daniel Craig, Jessica Chastain, Tom Cruise, Ashton Kutcher, John Mayer, and Hilary Swank are only some of the A-listers learning Krav Maga to stay in shape and to prepare for films.
Leonardo DiCaprio was out of shape when he started preparing for Blood Diamond. In just a few months he got rock-solid.
Tyler Perry credited his 30-pound weight loss in 2012 to his Krav Maga training: "When I started doing the movie, I did Krav Maga, that's kind of like UFC, I really got into it, dropping a lot of weight", he told DailyMail.com.
"What I like about Krav Maga is that it is a self-defense class that teaches practical self-defense, not the origins of the universe", the late-James Gandolfini, actor and KM gym owner, told The Trentonian.
"Self defense is such an important thing for every woman to know. I wish I would have known about this earlier", says devotee Anna Anka. "Not only is it an amazing workout but you learn something so important: to never be a victim."
5. Where to Learn Krav Maga
Whether you're interested in Krav Maga as a method of self-defense or as a way to get fit, there are hundreds of gyms and dedicated studios around the country now offering instruction and classes.
Look for an established practice with a dedicated clientele and track record. Avoid the McDojos, as they are often "belt factories", more concerned with the bottom line than with turning out proficient practitioners.
Finally, it is important to find a good fit between your goals and the offerings of a particular program. If you're looking for intense, hands-on combat training, fit-boxing class at your local gym are probably not what you need. Having said that Krav Maga is not some MMA style brawl but a systematic self defense training designed to prepare you to be able to minimize the risk of harm to you and your companion in the event of a conflict.
If you would like to try authentic Israeli Krav Maga in Prague, contact us at bezpeci.pro.vsechny@centrum.cz for group classes, personal training, team buildings and company courses.